2021 COMMUNITY EMPOWERMENT FUND
What is this fund?
The Asian Mosaic Fund (AMF) is fundraising for our 2021 grant cycle, to be distributed to organizations that serve and are led by Asian American and Pacfic Islanders (AAPIs) in the Greater Philadelphia area. This year, AMF is aiming to raising enough money to award five (5) $5,000 grants to local AAPI-led and serving nonprofits for our 2021 Community Empowerment Fund.
To date, AMF has provided $213,000 in funding to support over 30 community-led organizations whose work spans over a wide range of issue areas including: social, economic and racial justice and advancements; civic empowerment and engagement; immigrant and refugee support; K-12 and adult education; social services; and arts and culture. While in past years, we've typically awarded three (3) $5,000 microgrants, the need to fundraise and support our local AAPI communities is more pressing than ever.
Who and what will this fund support?
The COVID-19 pandemic continues to impact vulnerable communities. While AAPI-led and serving organizations have always been disproportionately underfunded, the inequitable distribution of philanthropic support has been especially apparent in recent months. As AMF values philanthropy that is democratic, participatory, and community-led, this 2021 grant cycle will also serve to complement and fill existing gaps from local philanthropy to ensure that AAPI communities in the Greater Philadelphia area are both seen and funded during this uncertain time.
Read more about our recent work with partners at the Philadelphia chapter of Asian Americans/Pacific Islanders in Philanthropy (AAPIP Philadelphia) on the AAPI Communities Relief & Recovery Fund, reported by Billy Penn of WHYY, Asian American nonprofits get low share of Philly's COVID relief grants, so mutual aid orgs step in.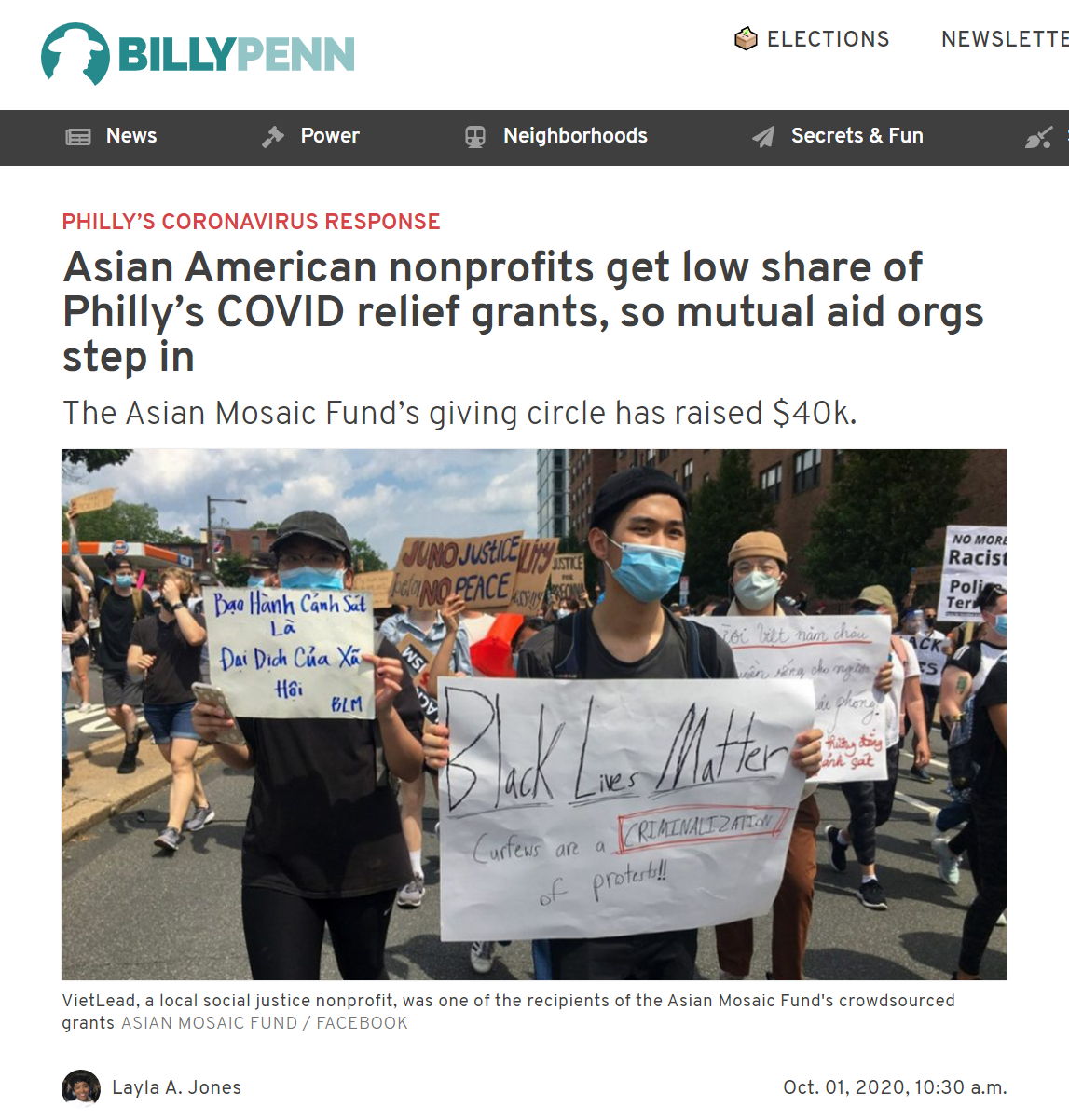 How will I know my contributions are making a difference?
Making a difference will vary depending on need and the focus of each funded organization. For some organizations, this may mean that you have helped in procuring and delivering food and essential items to aging and senior community members. For others--particularly small performing arts organizations that rely on performance-based income--it will allow them to sustain their operations.
We will also be sharing updates about our grantmaking process and organizations that receive funding here on our website.
How will you decide who receives grant funding?
Our democratic grantmaking model embodies a participatory component with our membership. Once applications from community partners are vetted for eligibility, they are voted on by members of the AMF. To learn more about our grantmaking process, please see our FAQ page.
Is there anything else I should know?
Thank you, in advance, for making a contribution and standing with our AAPI colleagues, neighbors and friends. For those who are able and willing to contribute, we kindly ask that you look into any donation matching programs offered by your employer and/or donate through your donor advised funds (DAF). Please share the word about this effort and let us know if you have any questions! Reach out to us at asianmosaicfund@gmail.com and connect with us on our social media platforms below.
DONATE
$159,125
RAISED
$20,000
GOAL
| | | |
| --- | --- | --- |
| | | |
| 38 | 118 | 796% |
| Days Left | Believers | Funded |
Campaign ends 07/31/2021 at 11:59 PM (EDT)